Puget Sound Express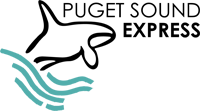 Puget Sound Express offers a Port Angeles Half Day Whale Watching tour that allows you to see humpbacks and orcas during your visit to Kalaloch and Olympic National Park. They guarantee you'll see whales or your next trip is free!
The tour is 3-4 hours in length, and features comfortable inside seating for everyone with a heated cabin, an outdoor viewing deck for wildlife, TV monitors for naturalist presentations, a snack bar and restrooms. Don't miss their signature, freshly-baked "blueberry buckle." On-board you will have a trained naturalist that will guide you along the way and explain the scenery, geography, history and wildlife of the area.
Depending on where the whales are, the tour travels to the San Juan Islands, Victoria, BC, and the Strait of Juan de Fuca. Along the journey, the wildlife is endless, from whales, bald eagles, harbor seals, California and Steller sea lions, tufted puffins and many other species of marine life. Puget Sound Express will have you back in plenty of time to enjoy Hurricane Ridge, downtown Port Angeles, and the other splendors of the Olympic Peninsula.
And our guests of Kalaloch can receive a complimentary blueberry buckle when joining us in Port Angeles. Please enter this code when booking online or by calling them: KALALOCHCOMPBUCKLE
Reserve Your Whale Watching Tour
Blueberry buckle is a coffee cake we bake right onboard everyday. Blueberry buckle is a blueberry coffee cake, which is a Hanke Family and passenger favorite. This family recipe comes from Sherri Hanke's childhood growing up on a blueberry farm in the Pacific Northwest, her grandmother always made it at harvest time. We are happy to share this tasty treat and recipe with our guests!